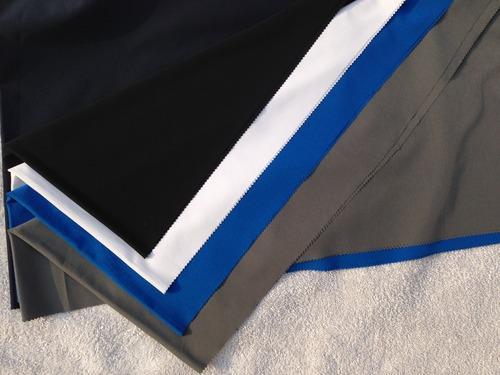 Recognized for its durability, elasticity, and strength, lycra is a polyurethane-based synthetic fiber that's also called spandex or elastane. Unlike many other types of synthetic fabrics, lycra is highly resistant to heat. Lycra fabric has the ability to stretch several times its size and return to its original shape. Typically used for compression garments, sportswear, motion capture suits and swimwear, lycra is often mixed with polyester, cotton or any other fabric to make lightweight, stretchable garments. Apparels made of lycra fabric guarantee better fit, comfort and incredible freedom of movement. It can be easily blended with natural or man-made fibers to increase the resilience and durability of the clothing.

NS lycra: The best fabric for excellent stretch and comfort
If you require a good quality lycra fabric to make stylish garments that provide all-season comfort and great fit, NS lycra fabric is what you should go for. Applauded for its skin-friendliness and excellent stretch, NS lycra is a supreme quality synthetic fabric that is highly demanded to produce gym clothing, compression garments, and sportswear. It can also be used in making home furnishings, table cloths, shower curtains, jackets, and various other products.

Used widely in the garment industry for making track pants, tights, sports bra, lowers, quilted jackets and much other apparel, NS lycra fabric is known to be the skin-friendliest and very smooth to touch. The extensive collection of NS lycra fabric suppliers in the country is highly valued by patrons around the globe for its luxurious feel on the skin, high tear strength, seamless finish, and reasonable price range. The following are some of the other mar factors that are taken into consideration by the suppliers of NS lycra fabric to retain their dominance in the global market.

• They offer a wide assortment of NS fabrics in different colors to fulfill the clients' diverse demands.

• They offer a quality range of comfortable to wear NS lycra fabrics at highly competitive market prices.

• They ensure that the fabric is designed under the guidance of adept professionals using quality yarns and advanced weaving technology in compliance with all the industry set guidelines.

• They offer their products in attractive and durable packaging as per customers' diverse requirements to ensure safe transit.

• They examine every batch of their offered product at several stringent quality grounds before finally forwarding them to the marketplace.

• The NS lycra fabric suppliers are well equipped to cater to the bulk and urgent requirement of NS lycra fabric across the world.

• Equipped with a strong logistic team and wide network, they make sure that the ordered product is delivered to the client within the committed time frame.

• They always maintain transparency in all their transactions and direct all their activities to cater to the expectations of customers worldwide.

Features of NS lycra fabric
• Smooth texture
• Excellent stretch
• Shiny look
• Easy to wash
• Great sheen
• All season comfort
• Resistant to tear and shrinkage
• No pilling problem

Available in a wide range of colors, the plain NS lycra fabric is a popular choice for making comfortable gym clothing, undergarments and sportswear.