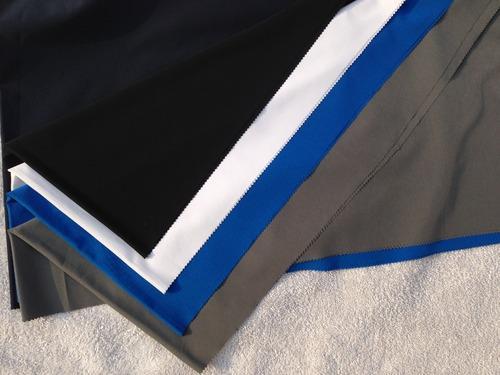 As we all are getting into fashion every single day, we are becoming more and more conscious of our clothing. Our complete selection of the clothes is not only based upon the design but also on the type of fabric it is made up of. Clothing which is being designed based on the latest fashion with a perfect amalgamation of color, as well as the right fabric, is exclusively important. It is none other than the fabric that plays a major role in offering a perfect definition to any outfit.

Being the most important part of any outfit, a single wrong choice can completely destroy the look of the outfit. The outfit creation, however, starts with the designing of the best quality fabric for the outfit. As technology is getting advanced day by day, so is the type of fabrics. However, there is a wide array of fabrics being available for making designer outfit.

Types of fabrics:
• Cotton Lawn
• Cotton voile
• Chambray
• Rayon challis
• Silk
• Denim
• Wool
Criteria for making fabric selection

For Infant clothing: We all know that the skin of infants is highly delicate. Hence, while making the selection of fabrics for them, one must look into the matter that it is completely soft as well as comfortable. Especially for infants, cotton is considered to be highly suitable. Even in winters, this fabric can be worn inside the woolen clothes.

• Toddler: In order to select the fabric for a toddler, pone must keep in mind that it should provide complete comfort and must be easy to wear. A toddler generally starts sitting, running, standing or even crawling, so, even their clothes and fabric must be highly comfortable.

• Preschool child: Preschool child is generally 4-5 years. And this is the age when they are starting to learn colors. As per the reputed fabric suppliers in Madhya Pradesh, the selection of their fabric must be based on different types of bright colors that can attract them a lot. Choosing yellow, green, blue or red can become their favorite color as well as can help in several activities they perform in their school.

• Adults: Especially for adults, the selection of the fabric must be done in quite a smarter way. As they are highly prone to work day and night, hence, their fabric should be completely smooth with high absorbent capacity. Thin cambric, poplin as well as cotton can be a good option.

Madhya Pradesh is a leading supplier of fabric. The fabrics are being procured from vendors who are known to have wide collections. This fabric is however made to suit the requirement of any outfit.

Thus, to conclude people who are in search of the fabrics for their outfit must look into the appropriate one. Because it is only the fabric that can make the outfit look standout from the crowd. A quality fabric can only make the wearing of any outfit a pleasant experience. It not only makes the cloth durable but, also even after washing multiple times retains the color and sheen making it new.