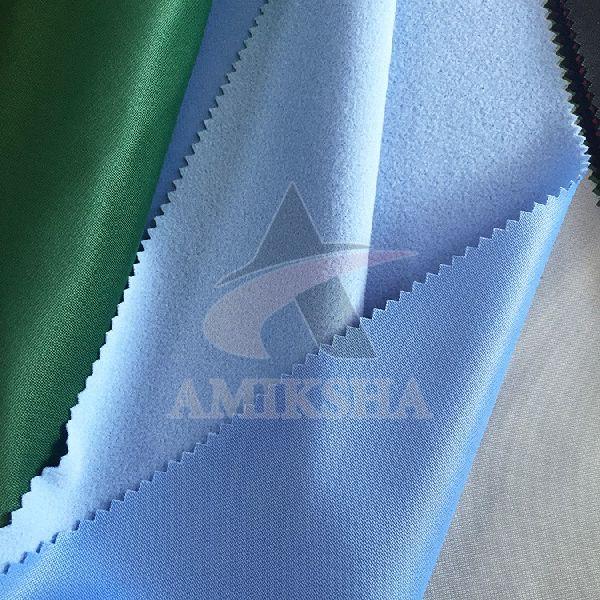 Polyester is a kind of synthetic fibre which can be derived from petroleum, water, air, and coal. It was first invented back in the beginning of 20th century in the science lab. It was the desired outcome of the chemical reactions between alcohol and acid. Through this reaction, a large molecule is formed via the combination of two or more molecules and the chemical structure is repeated throughout its length. Polyester fibres are efficient in forming super strong and stable molecules.

Advantages & Uses of Polyester fabric:
The wholesale textile fabric suppliers in India offer a range of products used in home furnishing, clothing, recording tapes, computer, industrial fabrics, and electrical insulation. In fact, in reality, polyester has sharp edges over the traditional natural fabrics like cotton. It is also easy to get dyed and less chances for it to get damaged by mold attack. It is popular due to some crucial factors like it does not absorb oil or moisture, which makes it perfect for any sort of fire, soil, and water resistant applications. Polyester is stain-resistant too. At the moment it finishes manufacturing, it can shrink for the last time, and after that it never shrinks again during its uses.

Polyester fibres in its textured form are more effective and acts as non-allergenic insulator. These make it perfect for using in outerwear, quilting, sleeping bags, and pillows. It is a synthetic fibre which makes it an affordable option in compared to cotton. Strong fibres of polyester do not wear down fast and it offers resistance against shrinking and wrinkles too. It dries out quickly. This is why textile fabric suppliers in Madhya Pradesh offer bulk amounts of materials to the sports industry and also to their clients of colder region… it's their favourite wear! Polyester has moisture-wicking properties which make is easy acceptable among the athletes. It is light to wear.
Characteristics of Polyester fibre:
Strong
Chemical resistant
Shrink and stretch resistant
Mildew resistant
Wrinkle resistant
Resilient and crisp when dry and wet
Fast drying
Abrasion resistant
Preserves heat-set crease and pleats
Easy to wash

Uses of Polyester fibre:
1. Apparel: polyester can be used to prepare almost any kind of clothing
2. Home furnishing: curtains, carpets, pillow covers, sheets, draperies, upholstery, and wall coverings are prepared with polyester
3. Other uses – power belting, hose, thread, nets, ropes, auto upholstery, tire cord, floppy disk liners, sails, furniture, pillows, etc.
The providers of fabric textile on wholesale in Madhya Pradesh offer different types of polyester fabrics and among them super poly and lycra fabrics are the most popular versions. These polyester fabrics are known for their resilience and capability to everyday wear and tear.
These fabric materials are highly appreciated among the users for its durability and high tenacity. The strong fibres offer resistance to most of the used chemicals in the industry, and hydrophobic. Users like its skin-friendly soft nature and multi-colour availability.